5 Great Reasons to Buy a Spa While Pregnant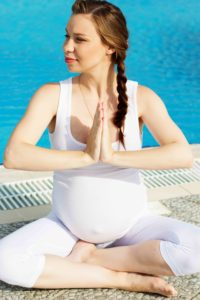 As a soon to be new mommy in my late 30's – I'm a true born believer in the benefits of Swimming and soaking in warm water while pregnant – and at all other times as well of course. My husband and I have had a hot tub of our own now since last summer – and while we didn't purchase it purposefully FOR the pregnancy – I can say with no reservations that it has been one of the BEST "accidental" pregnancy pain and stress relief solutions that I could have hoped for. Us prego's know that it can be rough during pregnancy – we're not allowed to use strong pain relievers,  massages are practically off limits, there is no alcohol, we have limited flexibility and of course, a reduced ability to work out. In short – there are more pains and muscle strains happening, but we have less options to deal with it.  For these reasons, and many others, a Hot Tub during pregnancy can be your best friend. I have put a lot of thought into this list of "Great Reasons" to buy a spa while pregnant – because I would love to see other expectant mommies enjoy the relaxation and relief that comes with having regular access to a hot tub or swim spa during or after pregnancy. I would also like to see more COUPLES enjoying the ongoing health benefits – lower blood pressure, joint and muscle relief, faster muscle recovery from training, injuries that heal faster, help with lupus, arthritis or MS symptoms…the list is long, and it's the real deal.
So here is a well thought out, great list of reasons to buy your hot tub NOW while you're pregnant. 
Aquatic Therapy and Flexibility. Relaxing fully immersed in warm water lets your aching body experience true buoyancy. You can completely relax your muscles and stretch unimpeded in an environment where you are more naturally flexible. This will help you stay loose and limber, even as your muscles cramp, and tighten and your joints shift or swell during the course of your pregnancy.
Hot Baths Leave You Lukewarm – in a traditional bathtub – it's often too tough to regulate the temperature. You need to make sure the water in your tub is between 98-100 degrees. Getting that bathwater to the right temp is tough – it's usually too hot – and then it cools off too quickly. Plus, bathtubs are usually too narrow or shallow to allow you to be covered with water and you miss out on many of the benefits of stretching and actually being able to float in the water. Typically, your poor baby bump gets left out in the cold while the rest of you overheats…it can actually be more annoying than relaxing.
Bust out the water weights and get toned! If you get a hot tub with 4 or more seats, you will be able to have enough space to use in water weights for your arms and ankles, and do some aquatic toning exercises to keep up your muscle mass and tone during your pregnancy. It's relaxing because it's low impact exercise, but it's still effective because of the water resistance – plus you're working out in luxurious warm water – a win win situation.
Stress Reduction – everyone tells us we're supposed to relax and not worry when we are pregnant. "Stress is bad for the baby!" they say, meaning well, not realizing that they just helped up our dose of anxiety a little bit. Taking time out of your busy schedule, away from your "to do" list, and disconnecting from the constant stream of pregnancy data available on our electronic devices – will help you get true peace of mind. Leave the cell phone and ipad inside and soak in the warm water while you stargaze with your sweetie. You don't even have to talk about baby names – just chill out and relax together.
Invest NOW in your FUTURE health. As soon as your precious babe is born, you and your partner are going to be entering one of the most stressful phases of your life – investing the cash in a hot tub NOW before the onslaught of medical bills, busy schedule and sleepless nights –  will assure that you continue to this heavenly habit to connect to each other and relax your tired bodies and brains on a regular basis – at home – where you will be stuck hanging out together for a while.
You've probably heard of the "babymoon" idea, aka a trip you take right before the baby is born.  Or maybe more recently you've heard the term "Push Present" –
something I just heard about for the first time last week and thought was funny  –
it's
a present you can supposedly get during or immediately following labor – from your husband. If you're considering either of these OR just in a buying mood and want to pamper yourself with the BEST gift you will ever invest in (pregnancy or no pregnancy), a gift that will keep on giving to you and your family for YEARS to come, you need to seriously consider a hot tub NOW. Not one of my customers has ever said
"I wish I hadn't bought my hot tub." 
Want to learn more about our hot tubs and swim spas in person from a mommy to be Spa Expert this weekend?  Come pick my brain at the El Paso home show this Saturday and Sunday March 11th-12th at the Convention Center. 
Check out www.BigSpaExpo.com for a $1000 savings coupon and directions to the Spa Show!