There is no shortage of articles out there about hot tubs, swimming, and Pregnancy safety – believe me, I've been reading them ALL the past 7 months! As a woman in my late 30's pregnant with my first child – I'm definitely one who wants to be informed as to the safest practices for my unborn kiddo. Then again, as a pregnant woman, 7 months in – I've also got a LOT of weird and intense muscle aches and pains happening – more and more every day. Obviously, I want to be able to relieve this pain in the most natural of ways, relax and sleep better, and know that I'm doing it in the healthiest possible way.  Let me tell you – that swimming regularly combined with warm water and the light aquatic massage of jets in a hot tub – is a fantastic combination!
Now, I just so happen to work for a hot tub and swim spa dealer in Las Cruces New Mexico. I've also been a swimmer for years – and enjoy regularly swimming in our swim spas in the Las Cruces showroom after hours – it's not only a great workout, it's extremely relaxing and I don't have to share lanes with anyone at the public pool!  Because of my job, I know a LOT about hot tubs and swim spas. I know about pool chemicals, water care, and I know about our Master Spas brand – that our ecopur filters and ozone treatment allows us to use BARELY any chlorine in the water – so I have felt safe swimming in the water – even since I found out about my little pea in the pod 7 months ago.
But the hot tubs I did more research on. There is evidence of HOT water in early pregnancy (first trimester) being a potential cause of spinal cord defects in infants. Obviously -we want to avoid something like that. I consulted with my physician and with my acupuncturist to get more details on things to avoid.  Turns out the list is pretty short – and here it is for your convenience!
 Keep the water at 98-100 degrees – no hotter. It still feels REALLY good at this temperature – to get in an soak. Just the buoyancy alone is a fantastic feeling let alone being in a LARGE water vessel and being able to float in warm water.
If you turn the jets on in the tub – turn off the ones on the balls of your feel, middle of your back and over your shoulders – these are pressure points you want to avoid – because they can stimulate early labor (especially in the 3rd Trimester)
Soak for 10-15 minutes at a time, then cool off.
Wait a day if you add chlorine or chemicals to the water – water that smells like chlorine is not that enjoyable anyway.
Use the cool Spazazz Aromatherapy crystals to add additional ambiance and a lovely scent to the water – the lavender ones are highly recommended.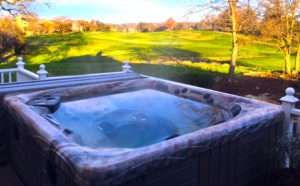 Fortunately, the Hot Tub I own at home has adjustable jets – so I was able to turn them on and off in each area of my body. The ones on my calves when I'm sitting in a lounge seat have been my all time  favorite so far!
Swimming in the store swim spa has also been a terrific source of pain relief, and has helped me stay flexible and toned throughout my pregnancy! I have been able to swim regularly, use the pilates resistance bands and do gentle walking and stretching in the water against the current – to keep my muscles working – but able to do it in a low impact water environment which is easier on my joints – especially my hips and lower back muscles. I have a lot of clients who have purchased swim spas to help with arthritis.
At the beginning of my pregnancy I weighed 204 – now 7 months in, I weigh 205 – AND in the past 7 months, with the help of my swim spa exercise and eating healthy –  I have converted much of my previous "wine & cheese weight" to an adorable baby. My doctor told me it is fine that I haven't gained weight – he even advised me in the beginning that I didn't need to gain any – so I'm thrilled at what we have dubbed "The baby diet". Once the baby is born, I'll actually weigh less than pre-baby AND have more muscle. So I'm planning to parlay that into more swimming – to get in better shape.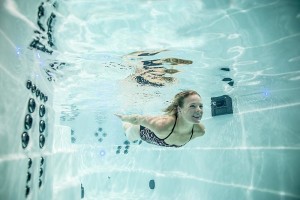 In summary – using a hot tub daily, at lower temperatures throughout my pregnancy at home has been a HUGE physical relief to me. It has helped me reduce stress and enjoy the experience.
It has helped soothe my back muscles, leg muscles, tight belly cramps, headaches, neck aches, and allowed me to relax and get some peace and quiet both at the beginning and the end of the day on a regular basis over the past 7 months.
Having space to move around in a hot tub, enough water to actually "float" in and do stretching in warm water has been great. A bath tub is JUST not the same when your belly is 3x as big as it used to be. There isn't enough water to cover your baby bump – so it's left out there all cold and alone. You end up feeling like you're wedged into a butter dish with some lukewarm water filling in the gaps.
One last benefit I cannot emphasize enough – taking time to connect to my honey -is a HUGE one that I didn't even really consider before I started using the hot tub during pregnancy
.
We have a busy life – and taking time to sit and soak together in peace and quiet at the end of the day – and gaze at the stars and moon in our hot tub  – while getting our minds ready for a peaceful night of sleep  – is a treasure I could not possibly put a price tag on. These are the last months of our "freedom" as a married couple without kids -and important months for bonding together and getting on the same page as partners. I want to appreciate every moment we have before our kiddo comes along and turns our life upside down. Spending time each day talking, holding hands and laughing together away from electronics, the TV or other distractions has been an enormous benefit, and a habit I'm sure we'll continue after the baby comes along.
Whether you are currently pregnant and seeking pain relief, or looking for an exercise option during AND after pregnancy –  I can personally recommend hot tubs and swim spas during pregnancy – AND LONG AFTER – as a huge value added health and stress relief bonus in your life. There is really no other past time, hobby or habit that gives you the opportunity to connect to the people around you in the same way AND adds health benefits on a daily basis in the long run.
Come see us at the El Paso Home Show this weekend March 10th-11th or
email us
for more details about our spa models!

There are numerous advantages to having your own pool or swim spa. The advantages don't change much depending on the type of pool that you choose. Whether you go with above ground or in ground pool or swim spa, you're guaranteed to enjoy the perks of swimming pool ownership. If you're still on the fence wondering if a swimming pool is right for you, consider these ten ways that owning a pool or swim spa will change your life
1. Everyone Sleeps Better (Including the Kids)
When you spend part of your day in a swimming pool, you'll sleep better at night. Whether you are swimming, exercising, or just playing in the pool, you will fall asleep faster and sleep deeper. Do you have difficulty getting your children to bed on time? Consider a swimming pool to tire them out, and they may start asking you when it's time to go to bed!
2. Be the Hangout House  
Installing a swimming pool in your home means that your house will be the place to be. From church groups and community activities to your kids' friends, you'll be the fun house where everyone wants to hang out.
3. Enjoy a Vacation Without Leaving Town
"Staycation" is a trending word that means you stay at home while you're on vacation. When you have the luxury of a swimming pool right at your fingertips, you don't have to pay thousands of dollars for your time off to feel like you're at a resort. Eat at your favorite restaurants, enjoy your favorite local attractions, and spend lots of time in your own pool to save money and enjoy a great time!
4. Fitness at your Fingertips
The fitness component of a swimming pool is a selling feature for many adults, but they often don't realize that kids need that kind of exercise too. Instead of filling their time off with snacks and video
games, kids and adults alike look forward to time spent in the pool! If you're looking to establish a lifetime of of habit of physical activity, a swimming pool is your best bet.
5. Enjoy the Benefits of Aquatic Therapy
Time spent in a swimming pool is good for your cardiovascular system, but swimming pools have healing properties that work on other parts of your body too. Aquatic therapy is often used as a pain management technique. Swimming pool owners who struggle with joint pain or certain issues like fibromyalgia and cerebral palsy can experience tremendous relief by regularly using a swimming pool.
6. Increase the Value of Your Home
According to the National Association of Realtors, inground fiberglass and concrete pools increase home values by about 5%. That means if you have a $500,000 home, you're swimming pool will add $25,000 in value. This isn't always the case, but it's certainly an added perk.
7. 
Better (and More) Family Time  
If you're looking to pull every member of your family a little bit closer, consider installing a swimming pool. In this information age, family members young and old are distracted by the latest and greatest technology. One of the greatest things about swimming pool ownership is that there are no distractions. Your teenager won't be surfing social media when she's in the pool. Instead she will be full of smiles, games, and laughter as she enjoys time with family.
8. You Know How Clean It Is
You can afford a lot of trips to the water park for what you pay to install a swimming pool in your yard. However, you cannot guarantee that the water you and your family are swimming in is clean and safe. Illnesses ranging from E. Coli to athlete's foot are common in any wet environment. Even worse, the Centers for Disease Control found that 58% of public pools contain fecal matter. The swimming pool in your backyard will have less traffic (and we know you're committed to keeping it clean), so it's far less likely that your pool will be a cesspool of germs.
9. See More of the Grandchildren
Time spent with grandchildren is truly wonderful. When you own your own swimming pool, there's always a reason to go to Grandma and Grandpa's house. In fact, you'll not only get to spend time with your grandchildren, but you'll also be a favorite hangout for their friends too. Spending time around a pool is a great way to make these precious bonds even stronger.
10. Relieve Your Stress
A relaxing dip in your swimming pool is it good investment in your family, but it's also a good investment for your mental health. Being in and around water is known as one of the most natural ways to relieve stress. It's a tactic used in cultures across the world. If you are trying to be a better version of yourself, taking time to relax and de-stress should be a top priority. And when you use a swimming pool, you'll quickly find that the stress and worry simply washes away.
No matter your budget or your lifestyle, our team is here to help you increase your quality of life when you install a pool. Give us a call today and let's see if we can find something that's perfect for you and your family.