Pregnancy, Swimming & Hot Tubs
There is no shortage of articles out there about hot tubs, swimming, and Pregnancy safety – believe me, I've been reading them ALL the past 7 months! As a woman in my late 30's pregnant with my first child – I'm definitely one who wants to be informed as to the safest practices for my unborn kiddo. Then again, as a pregnant woman, 7 months in – I've also got a LOT of weird and intense muscle aches and pains happening – more and more every day. Obviously, I want to be able to relieve this pain in the most natural of ways, relax and sleep better, and know that I'm doing it in the healthiest possible way.  Let me tell you – that swimming regularly combined with warm water and the light aquatic massage of jets in a hot tub – is a fantastic combination!
Now, I just so happen to work for a hot tub and swim spa dealer in Las Cruces New Mexico. I've also been a swimmer for years – and enjoy regularly swimming in our swim spas in the Las Cruces showroom after hours – it's not only a great workout, it's extremely relaxing and I don't have to share lanes with anyone at the public pool!  Because of my job, I know a LOT about hot tubs and swim spas. I know about pool chemicals, water care, and I know about our Master Spas brand – that our ecopur filters and ozone treatment allows us to use BARELY any chlorine in the water – so I have felt safe swimming in the water – even since I found out about my little pea in the pod 7 months ago.
But the hot tubs I did more research on. There is evidence of HOT water in early pregnancy (first trimester) being a potential cause of spinal cord defects in infants. Obviously -we want to avoid something like that. I consulted with my physician and with my acupuncturist to get more details on things to avoid.  Turns out the list is pretty short – and here it is for your convenience!
 Keep the water at 98-100 degrees – no hotter. It still feels REALLY good at this temperature – to get in an soak. Just the buoyancy alone is a fantastic feeling let alone being in a LARGE water vessel and being able to float in warm water.
If you turn the jets on in the tub – turn off the ones on the balls of your feel, middle of your back and over your shoulders – these are pressure points you want to avoid – because they can stimulate early labor (especially in the 3rd Trimester)
Soak for 10-15 minutes at a time, then cool off.
Wait a day if you add chlorine or chemicals to the water – water that smells like chlorine is not that enjoyable anyway.
Use the cool Spazazz Aromatherapy crystals to add additional ambiance and a lovely scent to the water – the lavender ones are highly recommended.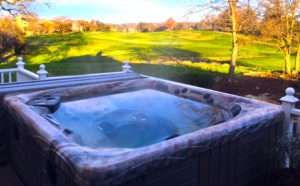 Fortunately, the Hot Tub I own at home has adjustable jets – so I was able to turn them on and off in each area of my body. The ones on my calves when I'm sitting in a lounge seat have been my all time  favorite so far!
Swimming in the store swim spa has also been a terrific source of pain relief, and has helped me stay flexible and toned throughout my pregnancy! I have been able to swim regularly, use the pilates resistance bands and do gentle walking and stretching in the water against the current – to keep my muscles working – but able to do it in a low impact water environment which is easier on my joints – especially my hips and lower back muscles. I have a lot of clients who have purchased swim spas to help with arthritis.
At the beginning of my pregnancy I weighed 204 – now 7 months in, I weigh 205 – AND in the past 7 months, with the help of my swim spa exercise and eating healthy –  I have converted much of my previous "wine & cheese weight" to an adorable baby. My doctor told me it is fine that I haven't gained weight – he even advised me in the beginning that I didn't need to gain any – so I'm thrilled at what we have dubbed "The baby diet". Once the baby is born, I'll actually weigh less than pre-baby AND have more muscle. So I'm planning to parlay that into more swimming – to get in better shape.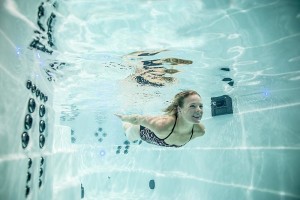 In summary – using a hot tub daily, at lower temperatures throughout my pregnancy at home has been a HUGE physical relief to me. It has helped me reduce stress and enjoy the experience.
It has helped soothe my back muscles, leg muscles, tight belly cramps, headaches, neck aches, and allowed me to relax and get some peace and quiet both at the beginning and the end of the day on a regular basis over the past 7 months.
Having space to move around in a hot tub, enough water to actually "float" in and do stretching in warm water has been great. A bath tub is JUST not the same when your belly is 3x as big as it used to be. There isn't enough water to cover your baby bump – so it's left out there all cold and alone. You end up feeling like you're wedged into a butter dish with some lukewarm water filling in the gaps.
One last benefit I cannot emphasize enough – taking time to connect to my honey -is a HUGE one that I didn't even really consider before I started using the hot tub during pregnancy
.
We have a busy life – and taking time to sit and soak together in peace and quiet at the end of the day – and gaze at the stars and moon in our hot tub  – while getting our minds ready for a peaceful night of sleep  – is a treasure I could not possibly put a price tag on. These are the last months of our "freedom" as a married couple without kids -and important months for bonding together and getting on the same page as partners. I want to appreciate every moment we have before our kiddo comes along and turns our life upside down. Spending time each day talking, holding hands and laughing together away from electronics, the TV or other distractions has been an enormous benefit, and a habit I'm sure we'll continue after the baby comes along.
Whether you are currently pregnant and seeking pain relief, or looking for an exercise option during AND after pregnancy –  I can personally recommend hot tubs and swim spas during pregnancy – AND LONG AFTER – as a huge value added health and stress relief bonus in your life. There is really no other past time, hobby or habit that gives you the opportunity to connect to the people around you in the same way AND adds health benefits on a daily basis in the long run.
Come see us at the El Paso Home Show this weekend March 10th-11th or
email us
for more details about our spa models!