Questions about the MP Momentum Swim Spa? We have answers …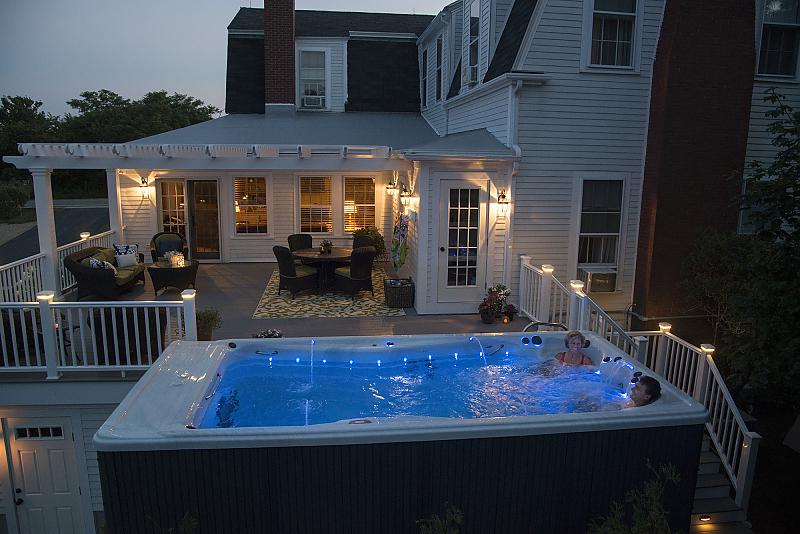 Good morning, class. Today's lesson is:
The Michael Phelps Momentum Swim Spa
by Master Spas.
Notebooks and pencils ready? Because there just might be a quiz …
If you've been in the market for a swim spa, you know there are a lot of options out there. But if you're looking for a swim spa that offers a truly smooth swimming current and a real hydrotherapy experience, nothing compares to a MP Momentum!
Lesson 1 – Size
Swimmers know – size matters. The MP Momentum is 3 feet, 9 inches deep and the pool area is long enough to handle any stroke style or pattern. Overall, the swim spa is 231"x94"x51". Yes, it's large. But it's also a pool and a full size hot tub in one. Most swim spas don't offer that combination.
Lesson 2 – Hydrotherapy
With a the swim and spa sides separated by a clear acrylic wall, the MP Momentum allows you to set the pool to a comfortable swimming temperature, and set the spa to a therapy temp up to 104 degrees. Plus, the MP Momentum is equipped with Xtreme Therapy Seats and MasterBlaster Foot Massage Jets to help you get the most from your hydromassage. Just thinking about it is relaxing, isn't it?
Lesson 3 – Current
No swim spa on the market today can compare the current it offers, to the current created by the MP Momentum's patent-pending Wave Propulsion Technology System. The unique propeller design delivers a more realistic swimming experience with less turbulence. Plus, kids love it. You might want to keep that in mind. 😉
Lesson 4 – The Bells and Whistles
They may not be why you buy a MP Momentum, but they sure can make owning one fun. Standard goodies include LED waterline lighting, four water features, and rowing and exercise equipment for workout variety. It also features a noise reduction system and is the most energy efficient swim spa you can buy. Add on the sound system (with Bluetooth and subwoofer!), WiFi so you can operate your MP Momentum remotely, a non-slip flooring system and other options and you'll have the slickest swim spa on the block.
Ok. Class is dismissed! If today's lessons didn't answer all of your questions, call or stop by the showroom anytime! (And we were just kidding about the quiz!)