Erase® Stain ID Kit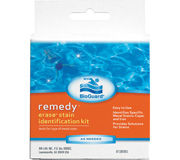 Knowing what type of stain is in your pool and how remove these stains is very important. The BioGuard Erase Stain Identification Kit is an easy to use system that helps identify the specific type of metal stain in your pool and gives you a recommendation on how to remove the stain.
Easy to use system
Quickly identifies the specific type of metal stain
Follow-up with Erase Stain Remover for iron or copper
This product is part of the BioGuard Remedy Category.