Kleen It®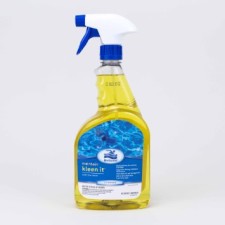 Kleen It is a powerful cleaning agent for removing scale, rust and deposits from D.E., cartridge and sand filters. It also removes dirt and debris that build up in the filter - without damaging the filter equipment. Dual action formula designed to remove scale/clarifier deposits and dirt and debris.
Removes metals, dirt and scale from filter
Keeps filter working at optimum performance
Cleans sand, DE and cartridge filters
Spray or soak application
Fresh citrus scent
This product is part of the BioGuard Maintain Category.