Off The Wall®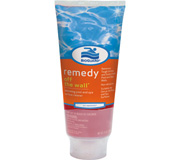 Off The Wall® allows you to efficiently remove scale, dirt, and stains on most types of pool and spa surfaces including vinyl, fiberglass, ceramic, stainless steel, aluminum and painted surfaces. This convenient gel formula is specifically formulated for compatibility with swimming pool and spa water.
Removes tough grime and scale from pool and spa surfaces
Non-abrasive
Suitable for use on all pool and spa surfaces
This product is part of the BioGuard Remedy Category.