Power Chlor™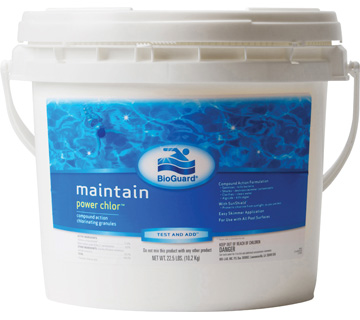 Power Chlor is a patented, easy-to-use, multi-functional sanitizer and shock and an excellent alternative to granular calcium hypochlorite products. It needs no pre-dissolving, will not cloud the water and contains a filtration enhancer and clarifier for crystal clear water. Power Chlor can be applied directly into the pool (white plaster pools only) or added through the skimmer.
Compound Action Formulation

Sanitizes - kills bacteria
Shocks - destroys swimmer contaminants
Clarifies - clears water
Algicide - kills algae

With SunShield® - protects chlorine from sunlight so you use less
Easy skimmer application
For use with all pool surfaces
This product is part of the BioGuard Maintain Category.