Stabilizer 100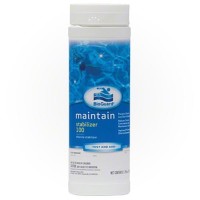 Stabilizer 100 is granular, totally soluble and prevents free chlorine residual loss due to sunlight. Apply it by feeding very slowly through your pool's skimmer. Stabilizer 100 reduces maintenance costs and chlorinating product consumption.
Prevents chlorine loss due to sunlight
Reduces chlorine consumption and maintenance cost
Use only in outdoor, chlorinated pools
This product is part of the BioGuard Maintain Category.