Stow-Away®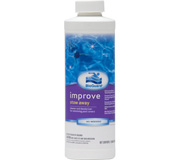 If you use a cover during the off-season months, you'll need to protect and store it once it's removed. This product is a cleaner/deodorizer that allows the pool cover to be stored wet and still remain protected.
Cleans and deodorizes covers to prepare them for storage
Eliminates unpleasant odors on pool covers
Prevents covers from sticking together when folded
Extends the life of most swimming pool covers
Allows covers to be stored wet
May be used to clean and store other pool-side items
This product is part of the BioGuard Improve Category.