Wine and Water | Hot Tub Stress Relief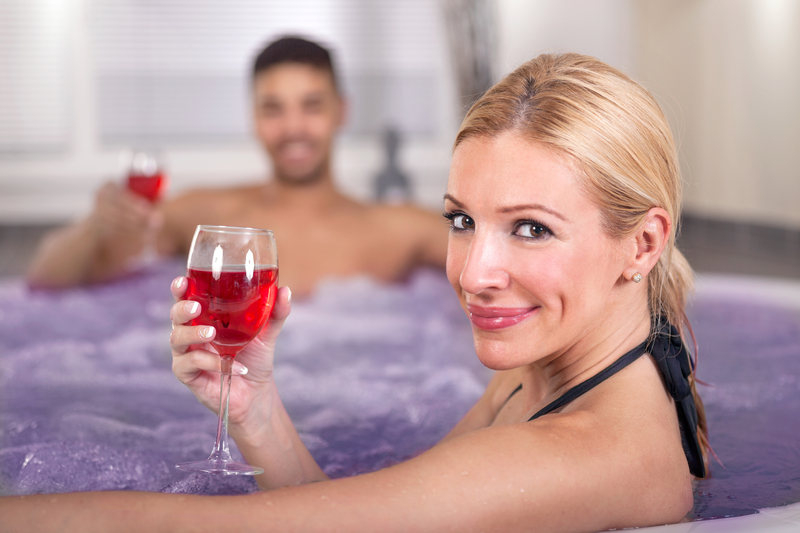 Commutes, 10 hour days, kids on the rampage, bills to pay, etc. – there are innumerable things piling on the stress in our daily lives. Finding relief, even for a moment, can seem impossible at times.
When you do have a few spare minutes to relax and unwind, be sure to maximize that time. A glass of wine and some hot water will have never felt so good.
One glass of wine (i.e. moderation) while the steam of the hot tub seeps into your pores will melt your cares away.
Hydrotherapy in a Master Spas hot tub is great for the mind and body. Research shows that the warm water can help balance your nervous system and encourage the release of dopamine, which combats stress. The American Heart Association reports that reducing stress will help your heart health too!
According to Health.com, a glass of wine on occasion can help with memory preservation, help with weight management, boost your immune system, increase bone mass, and help balance blood sugar.
Safely and intelligently combine these two healthy habits!
Come visit the Pool Tech Plus showroom. Our friendly, expert staff will be proud to show you the industry leading line-up of Master Spas hot tubs and swim spas.
Right now, we have Hot Tubs starting as low $89 a month and Swim Spas starting as low as $199 a month! Contact us to learn more about swim spa incentives and your opportunity to qualify for 6 months of 0% interest financing!
Disclaimer – Pool Tech Plus does not condone drinking in excess while soaking in your hot tub. That is dangerous. Moderation is the word of the day here folks.